MERZBAU EFFECTS 2005-2006
"Lynda Gammon conflates the home, the studio and Merzbau effects in her architectural re-renderings of her Rotterdam studio." Exhibition Home Theatre, S. F.U. Galleries 2006.
For these works I scanned analogue photographs which I had taken of home and studio interiors and then mapped these onto models of architectural interiors which I created using various digital 3-D modelling programs. As I then moved through the virtual spaces I camera-captured various views.
Luanne Martineau writes,
"The work of Lynda Gammon puts forward alternative strategies and criteria for the creation, representation and interpretation architectural space and its cultural implications. Within the context of this exhibition, architecture and its space is conceived as being a social, and cultural structure. Gammon here corrects the monumental gesture in Western contemporary art and architecture by looking to some of the alternative strategies that have emerged since the 1960s, producing ephemeral, temporal and contingent conceptions of the spatial."
---

Merzbau Effect Series #1
digital print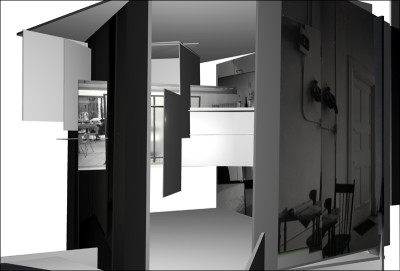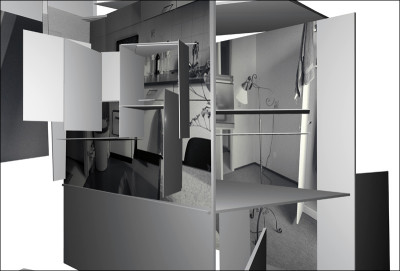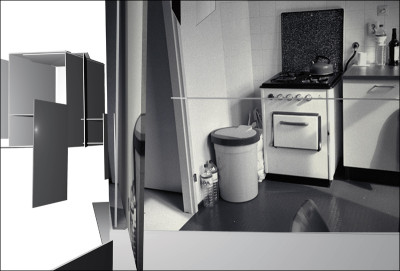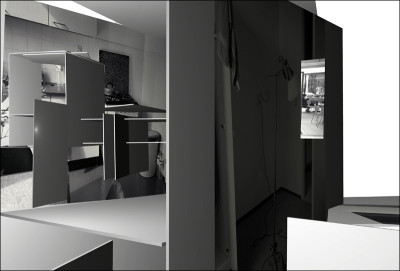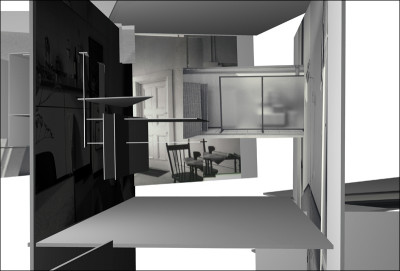 ---
Merzbau Effect Series #2, 1- 7
digital print