Trudi Lynn Smith and I wanted to explore the history of our studio space at 562 Fisgard Street (Victoria's Chinatown). The studio, built for the Chinese Benevolent Society in 1885, has a long history and except for a few pictures of the exterior has no photographic record.
So this is where we started. In 2014 we built a camera (9' long, 6' high and 2 ½' wide) capable of documenting a 16" X 20" section of the studio wall in the highest resolution possible. This entailed the construction of an analogue camera capable of exposing a piece of 16" X 20" film. Film was cut at the Ilford plant and a large lens, bellows and film holder were acquired.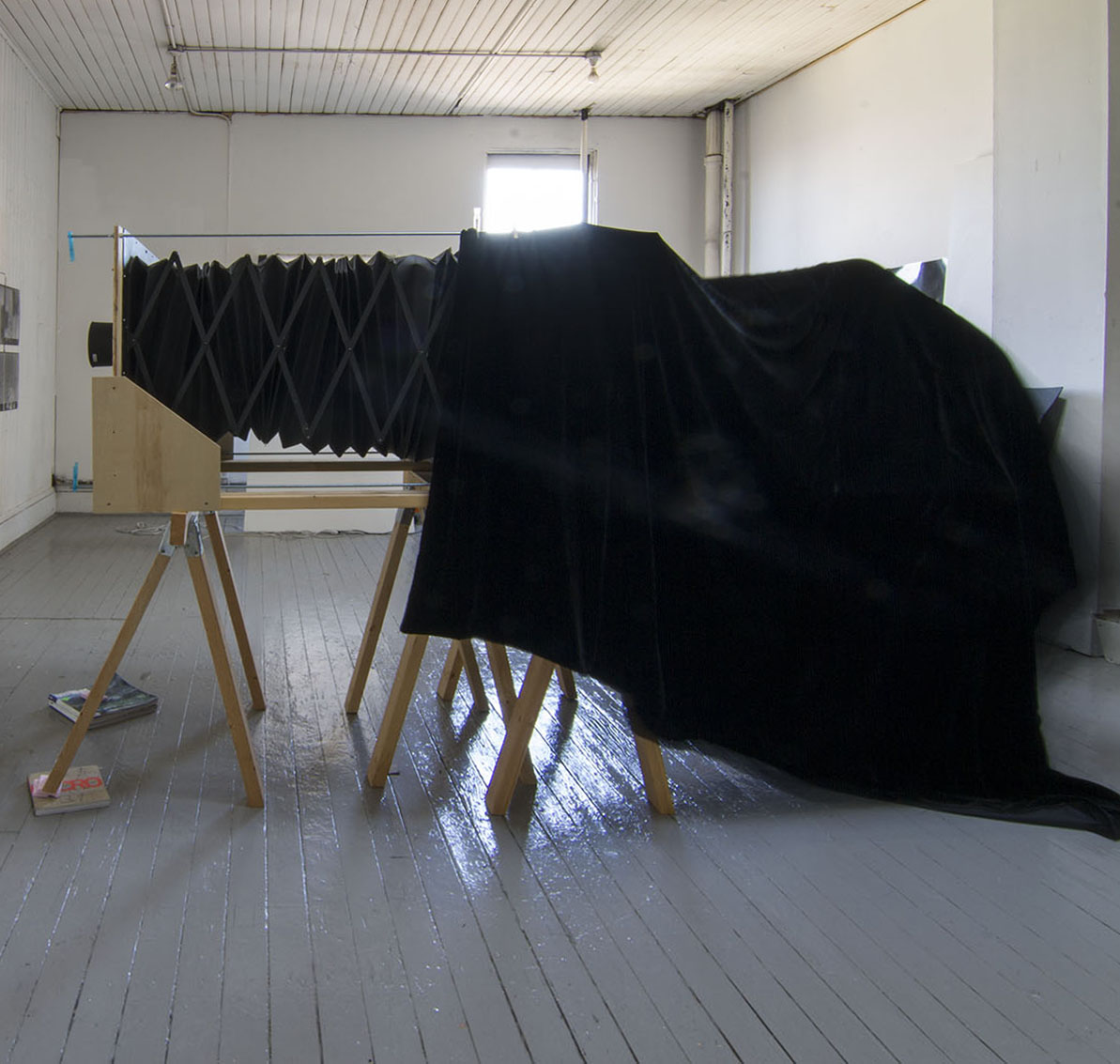 We took a photograph and then peeled back the wall and took another photograph and in so doing revealed layers of wall paper, handwriting, Chinese calligraphy, a piece of silk with a needle, mustard coloured paint, newspapers with advertisements for land in the area and so forth. Every minute detail was documented in the photographs, yet they somehow did little to reveal the history of the place.
In an effort to glean more, we decided to invite people to the studio to talk about the camera and the wall and place. We approached people who inhabited studios in the area, people involved in photography and a group of meditators. Visitors shared stories of a shrine, of a school, of migrant workers, of shelters, of tunnels, of opium dens, of reasons why the building was shut down, of relationships with the City of Victoria, of the Chinese Benevolent society, of cameras, of artist studios etc.
In 2016, I embarked on a series of studio wall meditations, Meditation on a Studio Wall. While the large camera was focused on the studio wall taking its 25 minute exposure. I too would focus my gaze on the wall for the same period of time. I documented these 'sittings' with 25 minute time exposures using my 4″ X 5″ analogue camera.  While meditating, thoughts would emerge and disappear, thoughts of the shrine room, thoughts of the inhabitants, thoughts and more thoughts.
With this project I was interested in kinds of experience gained through the process of meditation versus photography. It was interesting to me how the eye of the camera was focused on the same spot that my eyes were focused on. The same light that reflected off of the wall into the camera lens and negative was also reflected into my eyes.